Happy HUUUUUUMP Day, ya'll!
Now, ya'll who know me, know that I am a MEDIA FIEND. I LOVE getting obsessed with new TV shows, movies, YouTube creators, and more. However, as most people tend to do, you find the characters you relate to first. I always am carefully watching what the writers do with plus-sized characters.
As the plus positive community has grown, it has bled into our pop culture representation.
Now I made this list based on my OWN FAVE SHOWS that I watch. If you have someone to add to the list, please comment below! I was basing this list on a Bechdel-style test. Does the plus sized character have mostly, some, or hardly any non-weight related plots or lines? Is it effective writing? Do we know ANYTHING about the character other than 'fat'? Do other characters mention when they talk about them?
Let me just sneak the boring stuff so we can get to the goods! Check me out on Instagram here!  I also have a selling Instagram page where I sell some of my old clothes/styles so that I don't drown in my own wardrobe. I just listed a few new things – so check that out!
With no further ado, my seven picks for seven plus size characters that changed the TV game (or at least, for me!)
Retta as Donna on Parks & Rec
One of my plus sized idols. I'm on my billionth rewatch and I like her more and more. This is NOT. ONE. LINE. about her weight. She's portrayed as being confident, sexual, hard working, sexy, and luxurious. She's funny, smart, and coy. She has a wake of lovers, and a husband, and a successful career. AND WE NEVER HAD TO TALK ABOUT HER BEING PLUS SIZED FOR HER TO BE AWESOME. Preach
Sookie St. James on Gilmore Girls
Again, NOT ONE SINGLE LINE about her weight. Sookie has successful career, healthy marriage, plots including ex-boyfriends, three healthy pregnancies, a best friend, make-up, cute clothes and hair. This is a common theme of ASP (our Queen, Amy Sherman Palladino) to really know how to utilize all body types for actors! Sookie was the first character like this that I actively watched, so she was ahead of her time in 2001!
Miss Patty on Gilmore Girls
ANOTHER-LINES-ABOUT-WEIGHT and hyper sexual lady: Miss Patty on Gilmore Girls. While she is a recurring character, she is seen mostly as a sex symbol, flirt, artist, gossip, and all around good time. She's funny and has figured out how to make her passion for performance a career.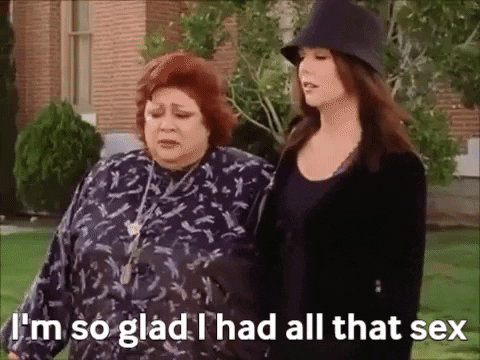 Aidy Bryant on SNL
I'm a HUGE SNL fan, always have been, and totally still am. When they introduced Aidy, I was in college, and just starting to love and accept my body. I was so nervous that she would only play frumpy, matronly, grandmas, or be the butt of a disgusting joke. Instead, she was versatile, funny, sexy, interesting, and a great character builder and writer. Her characters ranged from cute seventh graders to Sarah Huckabee to Adele to Lil Baby Aidy and Tonkerbell. I have continued to LOVE seeing her grow, the new interesting characters, and how she continues to break out of the box! Double props: costumer knows what to do with her!

Chrissy Metz on This is Us
Now, this one is a little different for me. I don't like the character of Kate, because a LOT of her plot is about her weight. I've definitely struggled with weight related depression, self esteem issues, eating disorders; but I feel like I don't know enough about her otherwise. Her main 'thing' is being fat. HOWEVER, Chrissy Metz (a wonderful actor!) is a size 28. No one on this list portrays the upper end of the spectrum like Chrissy! As a 3x/4x gal, I love seeing that type of plus representation. Also, Chrissy Metz is CUTE AS A DAMN BUTTON and is always acting her face off with awesomeness!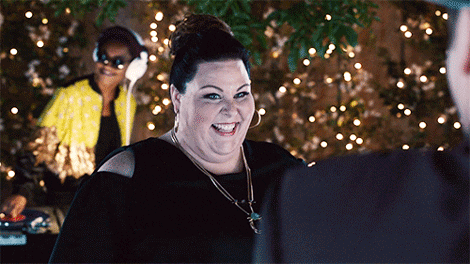 Tristan on Degrassi
Everyone shut up. I love Degrassi and feel absolutely no shame about it. (Next Generation Season 9 – Netflix class). Tristan is introduced circa season 13/14ish? He has only a few weight-related plots, including crash diets and not being allowed to be a zombie movie action star because he wasn't fit enough (it's Degrassi…). However, more often than not, plus sized characters and weight plots are delegated to women and I was happy to see a young man dealing with his self love and acceptance.
Taystee on OITNB
Taystee (even though she is an inmate) is shown as being smart, bubbly, outgoing, and a strong leader. She is a caretaker, with a great sense of humor, and a deep passion for law and justice. While OITNB is a great vehicle for ALL types of women (literally the most diverse cast of women that I've ever seen), Danielle Brooks has been one of the breakouts of the show to start doing work with plus positive activism.
What do you think? Did I miss anyone? Who would you add to the list? Maybe sometime I'll make a sequel!
SO HERE'S THE "END OF BLOG" SPIEL!
If you are at all interested in doing a collab or working with me – please feel free to check out my new Contact Me! page! I also do social media consulting and photography, so please reach out! Let's work together!
Follow me on Instagram: @thepennydarling
Subscribe for updates!
Check out my Gwynnie Bee affiliate page here! (Free month trial if you use my code!)
If you'd like to donate to help me keep Penny Darling going – click here!
Comment for topics you would like to see me cover! Like to help my self esteem! What do you think so far? More fashion? More lifestyle? Do you like the mix?
Thank you for all that you do. You are truly extraordinary.
Love all you wonderful ladies (and gents!) out there!
How Very,
Abby